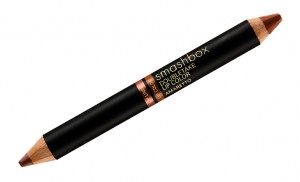 This is the first installment of my Road Testin' series; tales from the front lines of what makeup products do once they're out of their pretty pretty packaging, and in the real world. I think that for product reviews to really be meaningful it's important not only to talk about what new products come out and what they look like but let's also talk about how those products perform. I was thinking about how to categorize this when I heard Guru/MC Solaar's old song "Le Bien, Le Mal" – which loosely translates to "the Good and the Evil" – on the radio. Well, calling things the Good, The Bad, and the Ugly is about as original as not at all, and using the french terms Le Bon, Le Milieu et Le Mauvais on a blog that is otherwise completely in English seemed pretentious so I'll designate my product assessments as The Fab, The Fair and the Faulty.
1 ) The Fab – Smashbox Doubletake Lip Color – Reign Limited Edition
While it's important to me to know how a product is going to look and act on a photoshoot, whenever possible I like to see how real women like the product samples I'm given for real life use. I gave my friend Siobhan the new Reign Limited Collection Doubletake Lip Color in Currant and here's what she had to say about it:
"The best thing is…. that besides feeling really nice to put on (i love using the liner 1st, and it's really easy and smooth to apply, as well as the lipstick)…. is that I don't even NOTICE it after that! It doesn't dry out my lips, and it also lasts quite a long time… like a stain, but it doesn't make my lips all tight like I've experienced with stains.
When I applied it on Tues night, I dabbed it so that it wasn't on thick…. and [my boyfriend] didn't hesitate to kiss me, which was nice… and it didn't get on him, and yet it stayed on me. 🙂
So, yeah, I'm totally happy with it!"
Now that's what you want to hear! That also corroborates my on-set experience with all of the Double Take pencils; long lasting but feels great and the colors stay true. Great job, Smashbox!
2 ) The Fair – Josie Maran Tinted Moisturizer
This naturally based cosmetics line is one of the best there is, in my opinion and I'll be doing a full feature on them shortly. However, the Tinted Moisturizer gets mixed reviews whenever I recommend it to clients. The colors are fantastic and the formulation feels great (nicely moisturizing without being too heavy or emollient), however my users are reporting that the coverage fades away quickly. Generally speaking as a pro artist that sounds like it's a bit TOO light in coverage and there isn't enough pigmentation. In other words it's more moisturizer than Tinted moisturizer. There are some other great tinted moisturizers from naturally based brands available on the market so Josie Maran may want to re-think this product a bit.
3 ) The Faulty – Smashbox Cosmetics – Makeup Brushes
It truly grieves me to say this because Smashbox is so one of my brands otherwise, but the brushes are a definite disappointment. I was given several (#21, #12, #22, #20, #19, #1 and #13) and just too many of them have come apart and had the handle fall off on me. Those that haven't completely come apart are showing the same signs of becoming loose at the base (so then the handle falls off). So far, I've been able to glue the handles back on and keep using them but one, the Powder Brush #1, is completely beyond repair. You'll see in the picture that it's not just a matter of the handle fell off, but the actual hairs of the brush came completely out of the ferrule (the metal neck between the wooden handle and the hairs of the brush).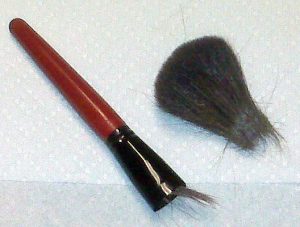 This happens when shorter hairs are used and glued into place, leaving a gap where water (or brush cleaner) can seep in when the brush is cleansed and the glue loosens that there goes your brush. On premium brushes the hairs will be the length of the ferrule and crimped AND glued into place assuring that they won't come out. How to know the difference? Take an expensive brush, hold it by the handle, and grab the hairs like you're trying to pull them out. On a well-crafted brush, no hairs will come out. Part of the reason really good brushes are generally so expensive is that they will – most likely – never need to be replaced. I have one brush in my kit that I've had over 15 years. It's very unfortunate that these brushes aren't manufactured better because the actual hairs are excellent and I love how they apply product. le Sigh.
It's surprising to me that Smashbox would be using lesser manufactured brushes. I LOVE Smashbox and I certainly hope they revamp the brushes to be en par with the same excellent quality of the rest of the line.
(Post title taken from the song "Le Bien, Le Mal", © MC Solaar/Guru taken from Guru's "Jazzmatazz vol 1")
© 2009 – 2016, Tania. All rights reserved.