IMATS Los Angeles 2012 is behind us. I ended up having a fantastic time at the International Makeup Artist Trade Show Los Angeles this year and I figured I'd better write about it before no one cares anymore. First a moment of full disclosure on why I am so late…
This time last week I was sitting in jury duty awaiting questioning for jury selection, in more pain than I have ever been in before. Ever. During the previous week I had what I thought was some minor shoulder soreness, and by last Friday night I was sitting in the emergency room unable to move my right arm. Did I mention that I am a right-handed makeup artist? Eventually the pain went away but my arm remained immobile. What I had going seemed similar to a condition that can last for as long as a year or two so needless to say I was in a bit of a panic as to how I was going to take care of myself and work. Through good treatment at the emergency room, good self care at home, and a little bit of Grace, my arm regained enough mobility by Sunday for me to do a basic makeup job. A couple of days ago (say Wednesday this week) was the first time that I could sit at a computer and type without discomfort. It has been a wild week!
Needless to say all of this changed my plans for IMATS. I was originally planning to go to the Pro Night and then go for a little span of time on the two weekend days. Instead I consider myself extremely fortunate to have been well enough to attend on Sunday. And I was super fortunate to have a running buddy at the show as my friend and fab makeup artist Renee Loiz, was also going that day so we were able to meet up.
Due to my compressed schedule I was not able to attend any of the workshops, lectures, or demos. This was a real bummer as there were several on Saturday I really, really wanted to see including the incomparable Kabuki (WHICH I hear was sadly under-attended by the largely non-pro crowd on Saturday). That aside I did much more walking the floor than I had in years. Years. It just seemed like it was waaaaaaay less crazy this year than last. The usual suspects (MAC, MUFE, NYX, etc.) were bustling but otherwise Renee and I were able to walk the floor, look at and touch product, and talk to the artist/representatives at the booths. Here is the scoop on what I got…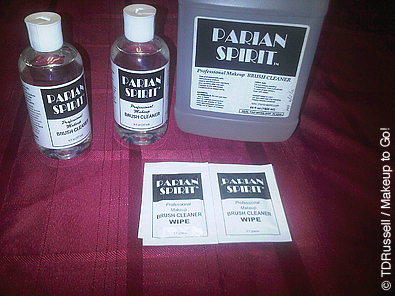 1 ) Parian Spirit Brush Cleaner
Gotta start with the basics and this was THE MAIN thing I needed. I had to make sure I left the Trade Show with this product in my hand. I know brush cleaners are very personal to each artist and everyone has their favorite. Parian Spirit is my favorite and it has been ever since I learned about them clear back at the very first IMATS show (yes, I'm old). NOTE: I am noticing a lot of young artists do not realize that Japonesque brush cleaner IS Parian Spirit (even says so on the Japonesque label). Instead of buying small retail bottles it makes more sense for a working artist to get the larger professional sizes of Parian Spirit.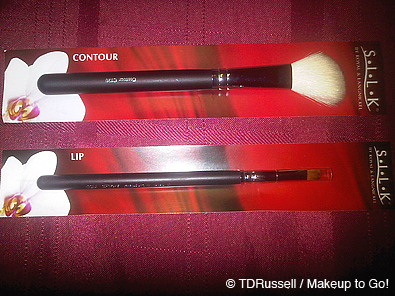 2 ) Royal and Langnickel Brushes
The other thing I *specifically* needed to get at Show was more lip brushes. I like to have multiple lip brushes in my roll for every job. What has become difficult is that most manufacturers nowadays either make their lip brushes with synthetic hairs or they make those (in my opinion) useless retractable brushes. I need good, old-fashioned natural hair, professional handle lip brushes. Those are the only kind that lay down lip product the way that I like. I wanted both the rounded and the tapered lip brush but they were sold out of the tapered. I also got a couple of angled blush brushes because I find I can never have too many of those.
While at their both, I'd hoped to learn about the new Revolution™ Brushes that Royal & Langnickel designed with makeup artist Kevin James Bennett. Mr. Bennett was there but he was busy at the time we were at the booth and the artists who were working the booth – quite frankly – just did not seem to be too interested in answering questions. One artist in particular I asked her two different questions and both times she gave me a short answer and walked away. ????? OK, it was towards the end of a long show so we'll give her a pass. LOL! I felt the brushes and part of the "revolution" seems to be the fibers/"hairs" of the brush. I loved the ergonomic handles of the brushes but I did not like the way the brush "hairs" felt. At some point I will try a Revolution™ brush but I did not buy one at the show.
As we continued to wander around the show floor, we stopped by the Stila booth. They had an entire selection of new products including a new Matte eyeshadow palette which will debut this Fall. I am certain this palette will be a good seller for Stila, but I immediately recognized that it is basically a copy of the fabulous Viseart Paris matte eyeshadow palette that many artists – myself included – cannot live without. I will do a feature on Viseart Paris sometime soon because artists should know about that line, they are phenomenal. At the show I made Renee buy the Viseart eyeshadow palette :-p .
Also in attendance was Urban Decay who had two significant developments happening at their booth. First of all, they have finally launched a Discount and Editorial Credit program for professional makeup artists. Qualified applicants can get all the info needed at Urban Decay UDPro. Secondly they were giving out sample of…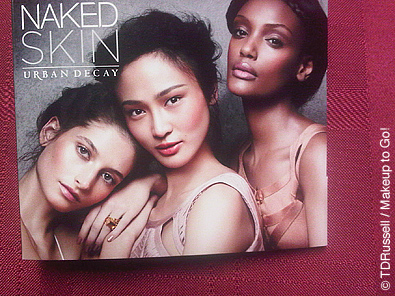 3 ) Urban Decay – Naked Skin Tinted Moisturizer
With BBCreams and Tinted Moisturizers being all the rage at the moment, Urban Decay is entering their horse into the race with Naked Skin. The artists at the Urban Decay booth were doing custom skin matching and offering a goodly sized sample in your matching shade. I declined to get my personal shade because I wanted a shade I would use more often on a job. Renee did get custom matched and I noticed on Renee the finish was not what I expect from this kind of product. It looked far more matte than I would have expected. More on this product as I actually get to play with it.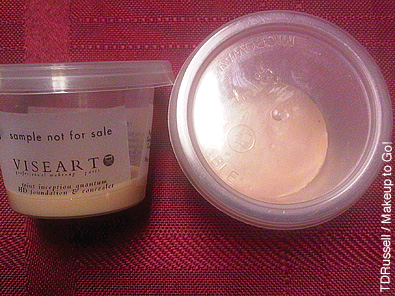 4 ) Viseart – HD Teint Inception Cream Foundation
While I did not purchase anything myself at the Viseart Paris booth, I was given some generous samples of Viseart's new HD Foundation. As of this writing I have not yet used it on a job but it looks similar in weight and texture to the Graftobian HD which as everyone knows, I love. The Viseart HD comes in individual pots or it is available as a palette which is what they had at the show. The palette had a good range of colors and it appears they are staying more neutral as opposed to going too yellow or too red so it will work for a goodly variety of faces. More info to follow as I get to use the product.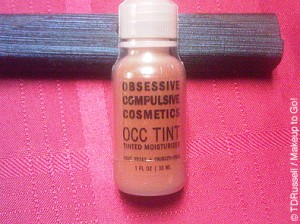 5 ) Obsessive Compulsive Cosmetics – OCC Skin: Conceal / OCC Tint
Even if I do not particularly need anything, no Trade Show trip is complete for me until I swing by the OCCMakeup booth. Turns out I did have reason to stop by the booth as on Friday – at the Pro Night – OCC had just introduced their first Concealer product. Again, I need to try it out fully, but playing with it at the booth it was both creamy in texture and light in weight while still having nice opacity. In other words; this has the makings of being a serious contender. I have been using Kryolan Dermacolors for years upon years upon years but if I can find a vegan alternative I am all over it. While I was at the OCC booth I also picked up another bottle of the fantastic OCC Tint which is OCC's tinted moisturizer. As I have mentioned before I love the finish and the sheer yet buildable coverage of OCC Tint. This time, I got a color that *I* can wear! YES! I was very excited to see that OCC had colors in my range in fact the color I got (R5) might be a bit too dark for me in the non-summer months. I love when companies get it that beauties come in all shades. 🙂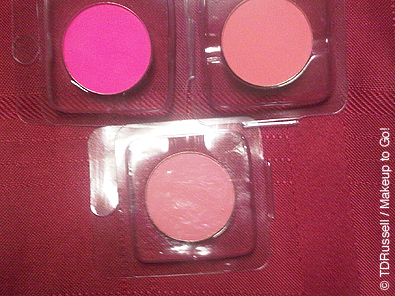 6 ) Yaby Cosmetics – Blushes
As always, one of the joys of the trade shows is catching up with friends in the 'biz whom I do not get to see regularly. Liz Yu, makeup artist and founder/developer of Yaby Cosmetics, moseyed on down from Canada to join us for IMATS LA. I have the Yaby "Best of Both Worlds" eyeshdow palette and find I particularly like Yaby for vibrant color cosmetics. Unlike most, her vibrant colors are highly pigmented AND supple and easy to blend (whereas I find a lot of highly pigmented cosmetics dry and powdery). Since her eyeshadows have always done me right, I decided I would try some of her blushes. I got BL20 a dusty rose, BL22 a peachy pink, and BL38 a hot pink/fuscha. It is always great to pickup great product AND support a friend at the same time! 🙂
In the end I got everything I needed plus more, I learned about some great new products, and I got to hang out with one of my makeup homegirls. Good times at IMATS Los Angeles 2012! I have shoots upcoming throughout the coming week so I will be able to try all my new purchases and give full reviews on how they performed soon…
© 2012 – 2016, Tania. All rights reserved.