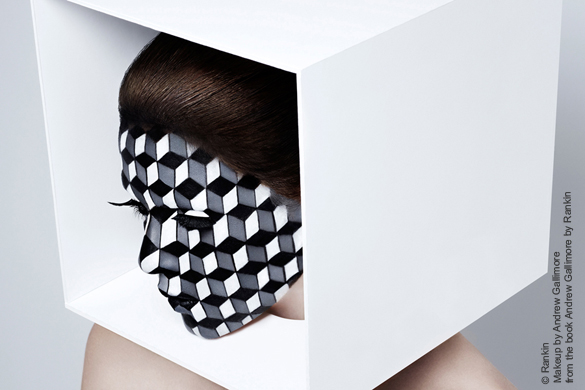 I first heard of makeup artist Andrew Gallimore some years back when I was looking at an editorial and I was just awed by the makeup. I was so inspired, in fact, that I paid the whatever import magazine price to actually buy the magazine. (DISCLOSURE: I have spent a LOT more for a good magazine. I am a magazine junkie, but more on that another time). The magazine was a fairly early edition of Dazed and Confused (which is now just called Dazed), the editorial was shot by Rankin with makeup by Andrew Gallimore.
First a note: If you claim to "love fashion", but you don't know who Rankin is – just do not even tell anyone. Do not ever admit that out loud. He is one of those people who – again if you claim to "love fashion" – you must know. Not knowing Andrew, ok, he's a bit more under the radar as most makeup artists are. But not knowing Rankin is heinous. Follow the links in this post and get yerself up to speed. 😉
In addition to being a noted photographer, Rankin is a successful fashion publisher. He is one of the founders of Dazed and has published numerous books and magazines, one magazine of which is the fantastic Hunger for which Andrew Gallimore is the Editor-at-Large. Over the years Gallimore and Rankin have collaborated regularly both on editorials and various fine art projects and now these collaborations are being released in a new book, Andrew Gallimore by Rankin *.
As you can probably infer by the photo above, this is no ordinary makeup book. It is always inspiring to see makeup that is PURE CREATIVITY. Not what eyeliner to use, not what's the best red lipstick, not how to highlight and contour (UGH!), and not limited to the "traditionally pretty". I also really love reading about the creative processes of various artists, therefore for me this book is a Must Get.
To read a bit more about it, Refinery29 did a story on the book from the makeup/Andrew Gallimore perspective (along with a slideshow of some images from the book):
"You've Never Seen Makeup Like This Before" – Refinery29.com
and Smithsonian magazine did a story from Rankin's perspective:
"Fashion Photographer Rankin Has a New Book of Models in Wild Makeup" – Smithsonian.com
Or if you want more than a short synopsis, Hunger magazine did an 8-part preview of the book, which I how I first heard about it:
Andrew Gallimore X Rankin – HungerTV.com
* this is an Affiliate Link. Purchasing through this link helps Makeup to Go keep going. Thanks kindly!
© 2014 – 2016, Tania. All rights reserved.