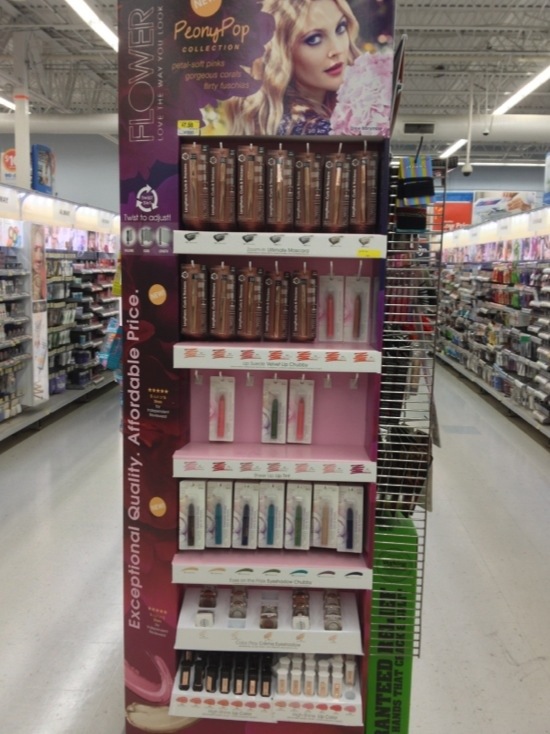 I generally like to take my time with reviews and see how products act over time and in different situations, therefore I do not necessarily review things right as they come out. When I first read about Flower Beauty and Cosmetics by Drew Barrymore in an Allure magazine cover story on Drew Barrymore, I was immediately intrigued. This is a woman whose own face has been tended to by some of the best makeup artists in the world and who has access to the finest products in the world. In short, this is someone who should know a lot about how makeup should feel, act, wear and respond. Indeed according to that Allure cover story Drew Barrymore was very hands-on in the creation of Flower Beauty. Like the Target-stores exclusive Sonia Kashuk Cosmetics – which I overall love – the aim with Flower Beauty is to bring high-quality cosmetics to the mass-market. As someone who is a bit of a snob with regards to mass market cosmetics, here's what I found from my investigations.
PROS
– Has a full cosmetics range from foundations, concealer and powder to mascara to cream blushes and cream eye shadows.
– Has a good color range in the foundations/concealers for a wide array of skin tones and complexions.
– Attractive packaging.
CONS
– It's at Walmart (more on that to follow)
– Products need to be shrink-wrapped
– Not all items available at all Walmart stores
Face
There is a saying amongst makeup artists that you should spend on your skin and save on your color cosmetics. This axiom holds true as I was definitely least impressed with the foundations/concealer/powder elements of the line. Currently Flower offers a liquid foundation, a stick cream foundation, a full coverage cream foundation, a tinted moisturizer, a BB cream and a powder foundation as well as an illuminating concealer and a regular concealer. In my opinion they would be well served to pare-down and make a few GREAT face products instead of going the "something for everyone" route. I was impressed with the fact that, in the liquid foundation and stick cream foundation formulations, they have a good color range that incorporates all skin tones.
Belle of the Ball: "Skincognito" stick cream foundation. Not too much coverage, not too little, allows skin to show through and to breathe. Comfortable to wear. Good "everyday" foundation. I would not, however, recommend this for photographic use.
Lips
Amongst the better offerings in general are the Flower lip products. Here Flower offers two different formulations of lipstick called "Kiss Sticks" (Velvet and High Shine), "Lip Service" lip butter, "Shine On" lip gloss, "Sheer Up" & "Lip Suede" lip crayons and the "Kiss Me Twice" lip and cheek stain sticks. First of all, the packaging of the lipsticks and lip glosses is very attractive and looks high-end. The color payoff on all of these products is excellent, the colors are rich and true. Most of the products – except really for the "Sheer Up" lip crayon – lasted a reasonably long time with the "Kiss Me Twice" lasting quite a long time. And in fairness given the formulation, I would not really expect the "Sheer Up" crayon to last a long time. I found the "Kiss Sticks" (both formulas), the "Lip Suede" lip crayons and the "Kiss Me Twice" lip/cheek stain felt a bit dry on myself and when I used them on talent they all did seem to dry out the lips a bit. This can obviously be rectified with the use of a lip moisturizer before applying the color, but if you're like me you like your lips feeling soft, so that is a consideration.
Belle of the Ball: "Lip Service" lip butter. This "more than a balm, not quite a lipstick" formula is smooth and creamy, has a nice shine and rich color, and wears well without feeling drying. 2nd Place: "Kiss Me Twice". I saw some folks comparing Kiss Me Twice to NARS Multiples. I don't know about all that! LOL! But it is a bendable and smooth formula with great color payoff.


Eyes
The eye products are all fairly standard issue with the collection consisting of a selection of mascaras, pencil liners, liquid liners, powder eyeshadow, eyeshadow "chubby stick" pencils, and cream eyeshadows. Alas, many of the colors will not work on deeper skin tones because they just are not pigmented enough. Texture-wise, I found the "Shadow Play" powder eyeshadows a bit dry as less-expensive eyeshadows often can be, however they did blend reasonably well. I would think a primer would be necessary for long wear on the powder eyeshadows. The "Eyes on the Prize" eyeshadow chubby is more like a cream-to-powder formulation so in my opinion they have better blend ability and staying power. The colors are also a bit more "true", so they are more usable on a wider array of skin-tones. I was very impressed with the texture, finish, build ability and long wear of the "Color Play" cream eyeshadows. If you search the web you'll see numerous reviews of people successfully wearing these colors for eight hours and more with no creasing or slippage without the use of a eyeshadow primer, and that was my experience as well when I used them on a photoshoot. I hope they increase the color range and pigmentation of this product, they'd have a real winner on their hands if they do.
Belle of the Ball: "Color Play" cream eyeshadows
Blush
The blush products were the most just OK (aside from the "Kiss Me Twice") of the color cosmetics products. Most of the products were too shimmery, and the color selection too narrow and not pigmented enough. I was most interested in the cream blushes but I could not actually try them for reasons I go into below (see: Con – It's at Walmart).
Belle of the Ball: "Glisten Up!" Highlighting chubby pencil. A sheer, pretty highlighter in a pencil form which makes application easy-peasy.

Lastly I feel I should offer a word about Flower Beauty being exclusive to Walmart. Note to Flower: PLEASE hire some Flower reps to go to stores and maintain the product displays. The caliber of the product and the quality of the packaging of the product, etc., is definitely undermined by the shabby presentation I found at most of the Walmart stores I visited.
The first Walmart I visited the display was so disgusting (opened product, smeared product all over the display, etc.) I was scared and I left, period. I went to a different Walmart and the display was much cleaner however you can tell that the product has been tempered with. I wanted to try some of the cream blushes & cream eyeshadows however there were clearly finger marks and swipes on the product.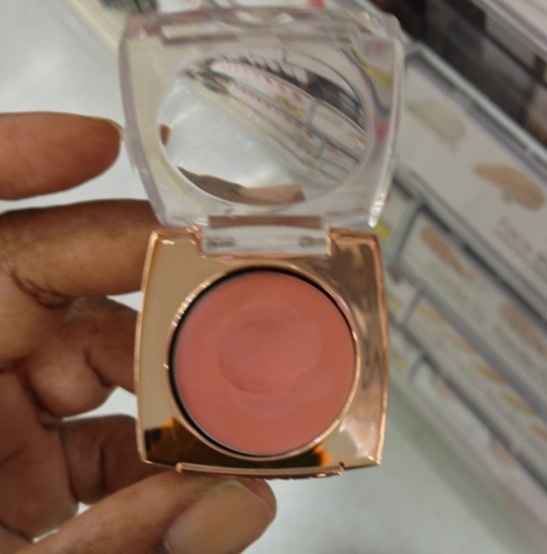 I was concerned about trying anything that was not shrink-wrapped which left me with few options of what I could try. The store nearest me in Los Angeles was actually the cleanest and had the nicest visual display but they had the least amount of selection (likely due to the color palette not really working for the demographic of that store). I ultimately did my purchasing via Walmart.com and that would be my suggestion for those interested in trying items from this line. I would suggest going to LOOK at the colors in the store but then order from Walmart.com so as to ensure the product is fresh and unopened plus you'd have access to the entire line at once instead of searching for items at individual stores.
Overall I think Flower Beauty and Cosmetics by Drew Barrymore is a fun new consumer cosmetics line. There is not much I would work into a professional makeup kit, but for a woman who wants an inexpensive commitment to some quality cosmetics and/or to try "trend" colors without spending a lot, I would definitely say Flower is worth a look.
© 2014 – 2016, Tania. All rights reserved.