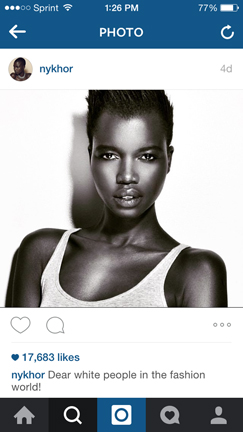 If you read beauty/fashion articles and blogs, by now you've no doubt read about model Nykhor Paul putting the entire fashion/beauty industry on blast on Instagram. If you haven't, you can check it here (be forewarned- she pulls no punches in expressing her feelings).
Basically she is upset that as a professional model working at the highest levels, she is not being accommodated in the same way her fairer complexioned peers are with regards to her makeup.
I am not quite as ebony as Nykhor – who is that gorgeous Sudanese true blue black – but as African-American skintones go I am on the deeper end of the scale. Therefore my initial, visceral reaction to her post was a fist pump in the air, Black Power fist Afro-pick in hair, HELLZ YEAH! But as I thought about her post, I realized this issue does not all lie at the feet of makeup artists.
YES THERE ARE PLENTY OF MEDIOCRE MAKEUP ARTISTS OUT THERE
One sure fire thing that never fails to wrankle my feathers is going into an online makeup group and seeing someone ask "How do I do makeup on dark skin?" Or "Where do I find makeup for dark skin?". Really? In America in 2015? Let's just say an artist lives in an area where there really is not a lot of diversity and so they've never worked on African American skin. I thought you said you were a professional artist? Use your Color Theory skills and get to work. I fail to have sympathy for anyone who uses this tired, lame excuse of an excuse. And as for "Where do I find makeup for dark skin?"
YES LOTS OF BRANDS DO NOT HAVE THOSE COLORS BUT A LOT OF BRANDS DO
There are brands that make and have always made colors for deeper complexions (MUFE, NARS, etc) and the pro/theatrical brands (Graftobian, Ben Nye, William Tuttle, etc.) have always had deep colors. Heck, Bobbi Brown started her brand in part because when she did Naomi Campbell for the first time for the cover of Vogue magazine, she accidentally made Naomi gray because she did not have the right color selection. And Lupita Nyong'o is the current spokesmodel for Lancôme. Therefore, it's not true to say that these colors simply do not exist, and it is silly for people to try to use the excuse that they do not know where to find them. Hello? Bobbi Brown and Lancôme. Not too hard to find.
All this said, however, by-and-large the mass-market cosmetic brands of the world have been shockingly slow about adding full color range.
SO THEN AN ARTIST SHOULD JUST USE THOSE BRANDS THAT HAVE THOSE COLORS, RIGHT?
Yes BUT here comes the rub: Ms. Paul was referring to her experiences backstage at various Fashion Week shows. Well, Fashion Week shows are overwhelmingly sponsored backstage by various cosmetics companies. When a show is sponsored, the artists are expected to use ONLY that cosmetics brand. Thus, if a Show is sponsored by a brand that does not have a full color range, because many brands still do not make a full color range, and yet the artists are expected to use only that line…
Many artists likely use this as their reasoning as to why they do not have certain colors, and that's probably what Ms. Paul was referring to; the artist should at least try. I know a number of diligent artists who try to work around this problem by bringing in other product and taping over the name, but some sponsors do not really like that either. Sometimes an artist has to literally sneak product out of their bag right quick and then quickly put it back. Whose fault is that? Why aren't these cosmetics companies making a full color range in 2015? And if Fashion Week is a trade show – which it is – why are they having shows sponsored by consumer lines that do not provide the artists with adequate product to complete the job?
ATTITUDE DETERMINES ALTITUDE
Something about this definitely speaks to an attitude regarding Beauty and what is beautiful. Models of color – and not just Black models – are still too often left out of the party, even when there is a definite "ethnic" theme to the Show. And when models of color are cast, there are often only one or two in a Show. There seems to still be a novelty element to casting models of color. Throughout the industry as a whole, there still seems to be a lingering afterthought attitude. White models are still "the norm", and models of color are still an afterthought. If we don't have colors for some of the models, eh, we'll work something out…
Contrast this to a video I saw a number of years back about a Kenyan news reporter who moved to and was working in China. The story was not about her makeup but they happened to video her while she was getting her makeup done. I remember noticing and remarking to myself that the Chinese makeup artist had absolutely zero problem whatsoever doing her makeup. He had the product and the skill to service his client and he did his job, end of story. I think it's safe to say that we have more Black people here in America than they do over in China. But yet…
SO WHERE DO WE GO FROM HERE
Concerned parties – artists, models, and consumers – need to be more vocal with the cosmetics brands about adding these colors. Corporate sponsors in fashion is not going anywhere, so the sponsoring brands just need to stop playing and carry a full and diverse array of colors. As a pro artist I would NEVER put a cosmetics brand on negative public blast because we are partners with cosmetics lines and we need to maintain positive relationships. However some gentle nudging never hurt anyone ;). As I mentioned in my last post, I recently told one of my fave lines that they needed to keep their foundations for people of color and I was informed that those colors are in fact returning. This likely means that they got a lot of feedback regarding the popularity of those colors. Cosmetics companies do listen, particularly in the form of positive reinforcement such as "Hey I really love your brand, I'd love it if you added XYZ". Trust me: the Lancôme of the Lupita Nyong'o era is not at all the same Lancôme of my youth. Cosmetics companies can and will change, its just a matter of getting them to hurry up.
And to you lazy artists out there who are still employing various excuses of why you cannot do, or do not have appropriate makeup for, clients of color, please do us all a favor and either step ya game up or step out the game.
—-
Have you signed up for the Makeup to Go Blog newsletter yet? Join the fun for exclusive content, contests, and other assorted fabulosity! Makeup to Go Blog Newsletter – "Speaking of Makeup"
© 2015, Tania. All rights reserved.