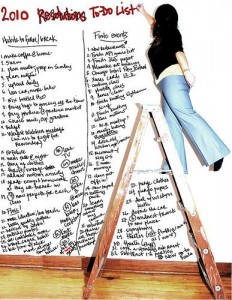 Happy New Year!
I trust that you all had fabulous Holidays. Like everyone, I always enter a bit of a reflective mood at the start of the New Year. Generally speaking media work is a bit slower so I have a bit of time to stop and think about what I've accomplished and where I want to go next. Generally speaking I split my Career resolutions up from my Personal resolutions. Since we're all here to talk about beauty and not about how I need to wake up earlier in the morning, here are my Career Resolutions for 2010;
1 ) Get Offline and Get On The Phone! – It may sound strange, but I can become shy when it comes to talking to people on the phone. The reality of the truth, however, is that it's incredibly important to maintain personal contact with people. At the end of the day, it's a people business. So if you're like me, get over your shyness and get on the phone. Plus I'm always always pleasantly surprised that people are happy to hear from me. 🙂
2 ) Do Follow Fridays on Twitter. – I've met so many great folks through Twitter but as the year went on I became sloppy about acknowledging my cool 'tweeples'. I promise to be a better Tweet Citizen this year.
3 ) Post to the Blog Daily – my goal when I started this blog was to post daily, and even though it's difficult with my work schedule, that is still my goal for 2010.
4 ) Schedule My Classes in Advance – likewise, I need to be more organized about my class offerings from this point forward. No one can take the classes if they don't know when they're happening…
5 ) Send Newsletters More Regularly – to both my Makeup to Go clientele and my Media clients. I get busy and forget. Regular communication is key!
6 ) Stay Inspired. Attend More Gallery Openings/Exhibits – I got really lazy about this one. I think I only went to 3 exhibits in 2009. Every time I go to one I feel inspired and invigorated so seriously… gotta do it…
7 ) Attend More Industry Functions – this is not a strong suit of mine… I'd much rather go to a party with my friends…. however I cannot ignore the reality that much business happens under the guise of "socializing" so I need to just get out there and do it. I'd probably have fun if I actually went to anything. lol
8 ) Do More Creatives – Jobs pay the bills, but creativity pays the soul. That's an original quote, feel free to click and tweet it! 😉
9 ) Do More Volunteer/Service – speaks for itself. There are a lot of great charities and organizations that can use the services of the Hair/Makeup/Wardrobe industry.
10) Appreciate What I Already Have – it's easy to constantly want more, More, MORE in this industry but it's important to take a step back and appreciate how really fortunate those of us who work in this industry are. We get to do what we love, create, meet great people, travel, learn see and do new things AND get paid pretty well for it. Not a bad gig. 😉
What are your Career Resolutions for 2010?
Featured Image from Getrefe.tumblr.com https://66.media.tumblr.com/982070ba4438a329511e0fe8d2096f5c/tumblr_o00a65hJoG1slhhf0o1_1280.jpg
© 2010 – 2016, Tania. All rights reserved.