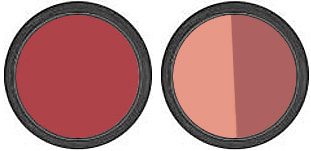 I did a job recently where I had to do makeup on an African American female model who was about Phylicia Rashād's (mom Huxtable from 'The Cosby Show') complexion. Both Phylicia and this model are a rich brown color, but still more fair than myself. To my dismay, I did NOT have a blush that really, really worked on her. Well, I had one, but it's shimmery and I needed matte/satin products for this shoot (pharmaceutical ad). When searching for colors for darker skin tones either for yourself or for your kit, the issue isn't needing a darker color necessarily (although that's obviously sometimes the case), the issue is needing higher pigmentation. You're dealing with skin that already has it's own measure of pigmentation so in order for color to show it needs to have a measure of potency. This led me to search for blushes for darker complexions, and let me tell you – it was a search. I thought I'd find some info online since there are always so many "Best Of" lists – nope. Searched some magazines – nope. I had to pull out the Do It Yourself kit and actually get in the car and hit the pavement to find the best blushes for darker toned beauties. Here's what I found;
Three Custom Color – 3CC, if you aren't familiar, is a makeup artists' brand. It was founded by two working makeup artists and I don't know any makeup artists who don't have at least one of their products in their kit. I start with them because they have too many beautiful colors to even name. Seriously, depending on your skin tone or the skin tone of your client you WILL find a perfect shade for you in this line. They have two formulations, the very sheer Watercolours for Cheeks and the Cream to Powder blushes. I'm pretty sure folks in NYC can visit their Studio to purchase in person, the rest of us can order online.
Il Makiage – Another "underground" brand founded by a makeup artist with a massive makeup artist following, Il Makiage has weathered a few storms over the last few years and I'm glad to see they are still alive and kicking. They also have a multitude of beautiful colors for all skin tones. My favorites for the more richly hued beauties are;
2191 Mountain Beach (dusty coral), 2188 Indian Coral (rich coral), 2171 Bird of Paradise (rich terracotta), 2190 Mocha (pinky brown), 2208 Toucan (rich dusty rose), 2179 Current (serious pink… looks like too much but beautiful color on the skin), and my two favorites 2169 Aubergine (true Aubergine), and 2196 Raspberry
"But Tania, I don't have time to try to track down these exotic pro brands"… I understand. Here's the best of the mainstream;
Bobbi Brown – Poppy (Deep Red), Cranberry (Deep Brownish Red), and the Pot Rouge cream blush in Chocolate Cherry.
Lancome – Yep, Lancome. They make a couple of great cream blushes that I use pretty often now. Chic Cassis (rich Plum/Aubergine color) and Retro Rogue (rich Currant-y red).
Nars – their selection of powder blushes isn't great for darker tones but they have two amazing creme blushes; Turkish Red (coral red), and the mighty Montenegro (a rich, beautiful Mahagony).
Many of the organic/naturally derived brands have been slow in developing colors for all shades of people, however Korres has stepped up to the plate with two great blushes; 32- Purple Brown, and 22 – Purple. Both lean more towards a plum-y hue, and both are very pretty and wearable.
Last but not least for you Drugstore Divas, there are a few good options available in mass-market retailers
NYX – Other things in the line I would not be able to recommend, but their blushes are actually quite good. The blushes I've used are well pigmented and last for a good while. My color selects are Powders: Desert Rose (rosey pink), Cocoa (pinky brown), Copper and Pecan (brown with a reddish tinge) and Cream: Diva a dark, rich red with brown undertones.
Iman – Now available at select Targets and JCPenny, Iman gives you department store brand quality in a mass market store at a mass market price (about $11 each for the blushes). All four are great Peace (Plum), Sable (red tinged Brown), Allure (duo of Plum-y blush and a highlighter), and Posh (duo of a rose-y pink blush and a highlighter). There's also a color on the website that I didn't see in the store called Sunlit Copper. I already had a lot of Iman products in my kit, so during the shoot when I needed better blushes I bought Peace and Sable and I was good to go.
© 2009 – 2016, Tania. All rights reserved.