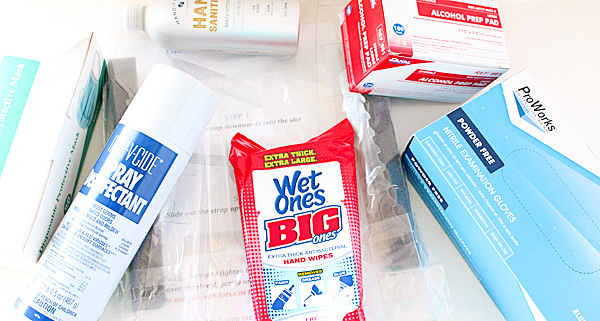 Makeup Artist Life in the Time of Coronavirus

Where were you when you got shut down?
…it was surreal, right? For some folks the quarantine crept up slowly, and for some folks it was BAM! Quarantined! But whether the quarantine happened fast or slow it was pretty crazy and needless to say things have not been the same since. As of the time of this writing, most places still have not all the way opened up and in fact new cases of Coronavirus are surging in the US. Undaunted, however, the photo industry is reopening in many US markets/cities. It will remain to be seen how it all unfolds and how long things can stay in action, but for now photography and production professionals are headed back to work after a three month absence.
For our first Makeup to Go Experts Roundtable, we discussed how we plan to prepare ourselves, our kits, and our businesses for the return to working life After The Quarantine.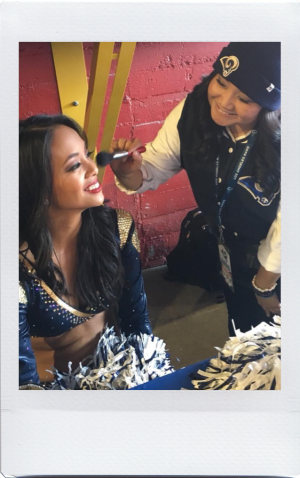 Where in the world are you and when did your area start it's quarantine?
Delia – Los Angeles, CA and I believe it was March 16th
Liza – I am in Long Beach, CA. Quarantine officially started for us on March 19th. March 12th was the last day of work for me at the sports network I work at.
Bethany – I was moving from Tarzana to San Francisco when the quarantine started March 17th.
Liz Fox – I am in the San Francisco Bay Area. March 13 was my daughters last day of school and ironically, the date of my last gig before sheltering in place began.
Aliana – Los Angeles, CA. March 20th (wow that's crazy to realize how long ago)
Tania – I'm based in LA. I've historically considered myself LA/SF based because I've always had regular clientele in both markets, but I hadn't worked in SF for a while prior to the shutdown. Los Angeles County was kind of vague as to how it began it's shelter in place so my situation dragged all the way to late March/early April before I was shut down for real.
What types of projects were you working on prior to the shut down? How did the shut down affect you? Did everything stop right away? Did it trickle off? Were there some things that you could keep doing but somethings that stopped? Etc.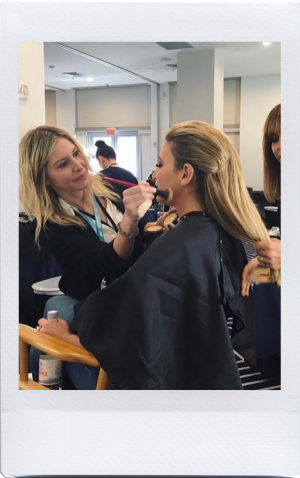 Aliana – I was primarily working in sports broadcasting at NFL, along with some fashion jobs (assisting) . I had just worked a job for a high end fashion brand where we lost one day due to the model canceling and having to re-book the talent last minute, as well as the client being from London (they JUST flew before all travel was cancelled!). I was scheduled to work the day the shut down started, when all work immediately stopped for me.
Liza – Aside from the sports network, I also was a freelancer for a major clothing retailer and a few beauty brands. For me, everything shut down. First I had a global event cancel for a haircare company, and then I heard about E3 getting cancelled and I had worked that event for the past 4 years. After that everything shut down. I did one small, local shoot on March 25th in full protective gear and that was the last time I worked.
Liz Fox – That week of March 9 is when things really started being serious. I had had a couple cancellations of jobs here and there but I remember talking to a DP on set that Tuesday and we were both receiving messages about jobs cancelling, one after the other. By the next day, I had nothing on the books after the 13th.
Delia – I was working on model portfolio building, lookbooks, web content, indy music videos. For me, everything shut down quick. I had a job the day before quarantine was announced. I remember leading up to it, we were unsure if we should do it. The client had already paid for space and the team was already given deposits. The client gave us the option to opt out and keep the deposit. Most of the team went on with the shoot, taking precautions, and it all went well. The next day was when the complete shut down took place. In a way, I'm glad I went through with the job because it gave me an idea of how to prepare for post COVID.
Tania – I was an in-house staff makeup artist (employee) for the Photo Studio of a major retailer so that took up most of my work life however I still did some freelancing. Anything freelance shut down for me immediately: my other regular client is NBA related and the NBA shut down on March 11th. It actually took my in-house Photo Studio job the longest to shut down, which happened in late March.
Bethany – Right before the quarantine I was working on a commercial with Salesforce, I had a couple other jobs lined up the next two months. While on the shoot it was March 6th and I was talking with the marketing manager and she told me they were going to be shutting down the tower the following Monday. Because I work mostly in corporate advertising, they started the shut down before the state and jobs began cancelling about two weeks before it was official.
The shut down has completely effected every aspect of my life. I am still stuck in a lease in LA and was hoping to turn it over. When the quarantine started, I was looking for another tenant. I have had to pay on that apartment and will continue for the next 3 months until the lease is up. As for work, I haven't had a job in 3 months. Everything stopped abruptly and still hasn't picked up. Yesterday I had my first inquiry so I am excited for things to pick up once I do finally start working.
What have you been doing to stay creative and stay in your craft during the shut down? (Creative challenges, create content on yourself, other artistic expression, etc)
Bethany – Staying creative has been challenging. I live extremely simplistic, mostly because I don't have a lot of disposable income. (I am a single artist living in an extremely expensive area.) So I only buy things that I need. The only creative outlet I have and can justify spending is in my kitchen, so I have been practicing here and there but getting certain types of ingredients with prices I can afford has also been extremely challenging. I was drawing a lot, which helped my sanity but it kinda fell off after a few weeks. I have been researching a lot more about gardening which is something I would like to pick up and taking some classes. I love learning so its helped with my mental sanity.
Delia – I'll be honest, it's been hard for me to stay creative. Haven't done much but talk about what I want to do!
Liza – During the quarantine I have been playing my guitar, cooking, working in my garden and working on my fine art. I hope to have enough pieces to do a show next year.
Aliana – During the beginning of quarantine I took a break from the city and was up in Norcal in nature. I stayed creative painting with different mediums, and playing with some fun makeup looks (twiggy inspired, 40's glam etc.) on my quarantine friend, while practicing what I imagined would be new restrictions for doing makeup. I also started doing lots of DIY beauty projects which I am still continuing as I love concocting!
Tania – Yep staying creative has been the struggle. I, of course, have a million ideas that I can't get photographed right now! 😭 And normally I bake so much that I have a side baking biz, as most of you know, but I've done shockingly little baking during the quarantine. I continued with the various business/marketing education I've been doing for a while now, working on various writing projects, did some content creation for a brand, etc. Mostly I've been shooting photography more and more which I'm loving. And like every makeup artist I know, I went into hardcore re-organization mode for a minute there.
Liz Fox – At first, I really just turned off from work mode and completely embraced being at home with my family and domestic and personal projects. I painted, baked, read, organized…it was important because everything we were hearing was so frightening. After about a month, I jumped back into kit organization and started an online creative challenge called "FX Hands for Safety, Sanitation and Sanity". Every week there was a different theme. We had up to 45 artists participating and it was a great way to meet new artists, connect with friends and stay creative. We did 7 weeks!
Tania – Yes this question was partly inspired by your FX Hands challenge. That was really inspiring to see at a time when inspiration and creativity was sorely needed. I'd like to do some challenges in Makeup to Go-land in the future 🙂
What business things have you done to keep the ball rolling during the shut down? (Updated website, updated resumes, sanitation courses, emails/meetings/ client outreach, anything like that…)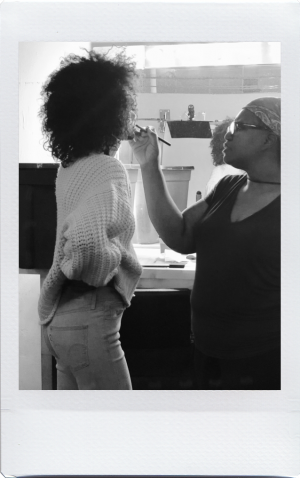 Tania You're looking at it 😉. Definitely getting el Blog back going has taken a goodly amount of my time. For freelance makeup artist life, I've taken a number of the certification courses. I started out looking at a few Online makeup classes and IG Lives but I found I burnt out on those fairly quickly. Oh and I need to finish the update on my Portfolio website sometime this lifetime.
Delia – Ive been contacting new photographers and potential clients via IG and email.
Bethany – I have been working on my accounting, taking some online classes that don't have anything to do with makeup directly but as a way to keep my mind active and not focusing on my distress. I updated my website, worked on my resume, and keep up with my LinkedIn but that took a total of about 3 days. Oh and I reorganized my kits and back stock which took me about 4 hours. Little things here and there help pass time.
Liza – I have been taking sanitation courses and keeping up with my makeup friends socially.
Liz Fox – All of it! I took all the classes and courses, watched every IG live, every Zoom class. Frends beauty did an excellent job at hosting Zoom classes with some of the best artists in film. PAM had spectacular tutorials and a FX school in LA gave all union members a complimentary month of their online classes. I attended virtual union meetings, received certification in Sanitation and Disinfection from multiple sources, updated my website, created a Prevention Plan and did some online shopping to update my kit.
Aliana – I updated my website, researched and completed sanitation protocols/courses. Created virtual sessions.
OK so let's shift gears to specific COVID19 preparation. How is your area opening up, what phase are you in? Are you likely to resume working soon? Have you started working already?
Liza – I have no idea when I will be going back to work. I am furloughed so I'm hoping I do not get laid off. But there is a lot of uncertainty. I don't know if we will have sports in the fall, and if we do, I do not know how much I will be needed.
Tania – I had been on furlough from in-house Photo Studio job since April 5th. I felt like I was on hold waiting to see whether or not that job was coming back. I was officially laid off on June 9th. As I said before my other major client is related to the NBA which shut down on March 11th. So a sista is just out there right now LOL. In honesty, I'm not trying to hard to work right now although I'd like to get back into shooting some creatives. I guess LA is considered to be in Phase 3, although I feel like there is no real game plan and our leadership is just saying words at this point.
Bethany – We currently just moved into Phase 2B yesterday. I am finding that working might start soon although precautions are not that well regulated. As mentioned before, I had an inquiry but when the conversation came up for their precautions with COVID-19, the shoot was cancelled. I am hoping to start working as soon as possible.
Aliana – Things are slowly opening up in Los Angeles. I am currently not working but have seen some other artists/productions starting to. I am hopeful that I will have work soon but have no idea when I actually will.
Liz Fox – I started working the week of 6/8. I felt completely prepared and absolutely terrified. The Bay Area has opened to smaller productions. I think I will only be doing commercial/industrial work for the time being, as it does not look like TV or film is coming back anytime soon. Gone are my days of background work (fine by me but usually only how I can get on the big jobs that come in to the bay area).
Delia – We are in phase 3 (but a soft phase 3, I would say). I have not started working yet but I have one job i'm on hold for so we will see how it goes.
How do you feel about going back to work? Are you excited or do you have trepidations? (Or both?)
Delia – I'm excited and eager to get back to it, but I do have concerns. I would hate to bring anything home to my family.
Liza – I am excited to go back to work. I love my job and I worked long and hard to get to the position I was in. But I am also nervous to go back. I don't know what the protocol will be, and how the talent will react to the changes.
Bethany – I am excited to be going back to work. The longer I stay out of work the more I have a hard time focusing on what is realistic. I have cabin fever but I am also somewhat nervous because I am going to be coming into close contact with potentially infected people. I have an autoimmune disorder and I don't know how that will effect me if I get it. I haven't been able to work out properly in the last 3 months and my high blood pressure has come back along with other health issues that tend to be related.
Liz Fox – I love the idea of working-of being out in the world and productive. I love being good at my job and showing up as someone people can trust. I love providing for my family. I love meeting new people, having conversations with people that are not my family. But I am nervous. I know I am being careful and safe but it's not guaranteed that everyone else is.
Aliana – I am excited and ready to go back to work. I have always taken the sanitation of my kit seriously and am prepared to practice new protocols (uv sanitation for brushes, face masks/shields etc.)
I am concerned about the face shield altering colors/how we see (have heard this from some artists).
Tania – Well, I want to create but I had straight up anxiety about going back to work. I don't know where I fall in the "immuno-compromised" spectrum, and frankly, I've thought the "open up" process countrywide started prematurely and with inadequate preparation. I survived major illness just a few years ago and I am in no hurry to have an experience like that EVER again.
Have you read any of the guidelines for salons and/or production? How easy or difficult do you think it will be to implement the guidelines? For you personally? For the client/production/etc.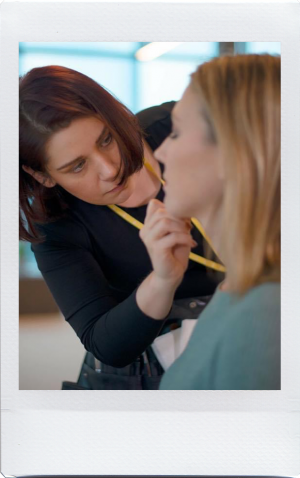 Bethany – I have read the guidelines for different companies and their requirements and I am not that worried about it. I used to volunteer in for a hospital for 3 years in high school, I worked in a tattoo and piercing shop, I went through CNA training, and trained in permanent makeup. Sanitation and cross-contamination are second nature to me (especially with the celiac disease). Although, as for others I am thinking it will be difficult when you aren't used to thinking like that on a regular basis.
Liza – I have read some of the new guidelines. I don't think talent will be thrilled about doing their own makeup if they have to. Before we were quarantined, we were guiding the talent through the makeups. Some were fine and some were not.
Tania – Yeah…. I've read them. I don't know how realistic I think it's all going to be in actual practice.
Liz Fox – I read all the guidelines and came up with my own. I can say from experience, having been on 3 different sets this last week, there are some precautions producers are happy to take but once things are rolling, it's business as usual. I found myself having to explain why a touch up couldn't take 20 seconds anymore 🙂 But I think it will just take time to adjust to a new mindset. We have to be the advocates of sanitation needs. It's a new job for us. We are the ones who know the most and come the closest to people.
Aliana – I think with production it will be a challenge with the new restrictions on limited crew size and allowing more time for everything (staggared call times, sanitation between talent etc.) I think we will need more time for makeup/hair with each talent to follow all of the guidelines.
Delia – I have not fully read all the guidelines.
***How do you plan to change your kit at all? Or do you plan to change your kit?***
Delia – I'm planning on using a lot more disposable items (capes, mascara). Have disinfectant readily available. I'm curious to see what other MUA are doing.
Liza – I do not plan on changing my kit. I used a lot of disposables before Covid-19 and that won't change. I will have more sanitizing products displayed so the talent feels comfortable at my station.
Bethany – I am not going to be changing a lot of my kit because I am already a germaphobe. The only changes is that I will be working almost exclusively from disposables instead of my brushes. Everything else was always scooped out and placed on palette but now my powders will have to be the same. I never actually liked touching my clients face so there really isn't too much change there.
Aliana – I have seen some people completely redo their kits however I had recently redone mine and did not see a need to change much besides making more room/carrying another bag for new sanitation products/devices/disposables. I'm always trying to downsize but now seems I'll be caring around even more now…
Tania – Werd. I like to carry small so I'll have to see how that plays out. I think I'm going to end up being a mix with some things changing and some not. I always have disposables on hand but for a lot of what I do I need the precision of tools, so I plan to have individual little brush kits for my talent. Pencils are probably out for now (or I'll use a new one and give it to the talent afterwards). I'm also thinking of re-visiting airbrushing. Working on this article kind of woke me up a bit. I don't know that I was fully prepared mentally prior to writing this.
Liz Fox – I have radically changed my kit. I have a "Prevention Plan" PDF that I send to my producers that explains that I must have a final count of talent 24 hours before the gig. Then I put together a small kit for each talent consisting of: a small metal palate, metal spatula, disposables, a brush set and a lip balm. I am now carrying an entirely separate bag (because I needed more to carry) of cleaning/sanitation products that includes: paper towels, tissues, Ship Shape cleaner, Barbacide spray, hand sanitizer, 99% alcohol, Gloves, masks, shield, Anti bacterial wipes, Beauty so clean spray and wipes and a bin for dirty brushes and tools.
I am still carrying pressed powders and pressed eyeshadows. I am using a clean brush to grab product and then tapping it out onto a palate, to then grab with another brush. This works well but is time consuming. However, I refuse to "scrape" as I do not want to compromise my product in that way.
I am now carrying only airbrush foundation, using the Temptu Airpod. But after 3 gigs, I am now confident that bringing my MUFE and Face Atelier will be fine, as I can pump it out and use a disposable sponge or brush just for that client/talent."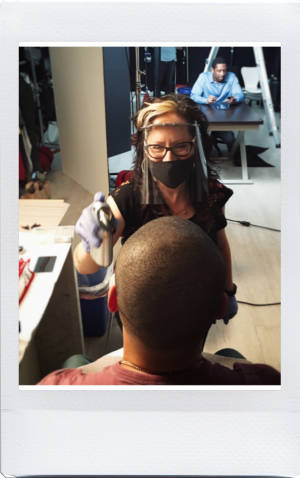 How much of your post-COVID prep will be up to you and how much of it is going to be up to your workplace? For example if I still worked at the NRHL Studio – which as we all know I don't anymore – but if I did they actually took care of sanitation supplies and that type of thing. Are you responsible for all of that yourself, is your workplace going to cover all of that, is it going to be some combination thereof, etc ?
Liza – My workplace will take care of all of the costs of sanitation. I do bring my own brushes to work. I usually bring enough so I don't have to use the same brushes in a session and I can clean and sanitize them between talent.
Bethany – From what I can tell, the Reel Directory came out with safety precautions stating that the production company would be responsible for carrying all supplies. As for my self, I will be bringing my own gloves and masks but will request face shields or any other covering for the talent to be provided just because that might change and I can't be held responsible for any changes.
Aliana – I have no idea so I've stocked up on everything and am prepared to provide all of it. I will charge in kit fee accordingly!
Delia – I think in my case, it will all be up to me. I haven't reallly thought about this to be honest.
Tania – I'm also assuming it's up to me at this point.
Liz Fox – It's ALL me. Although we are still waiting on Union guidelines.
How easy/difficult has it been for you to get the sanitation supplies you need? And have you had conversations with your workplace – if applicable – about what they are doing to prepare?
Delia – So far pretty easy. I was able to get my hands on some good disinfectants and it looks like stores like Nigels and Frends are stocking up.
Liza – I have not had a problem getting sanitation supplies except for Lysol or 7th generation in a spray can! I also haven't been able to find Viva Towels easily.
Bethany – As of right now, ordering supplies is in progress so I can't give you any answers as of yet but shipping times are currently back on time as usual.
Liz Fox – Everything is sold out!! But I was lucky to find what I needed by going to multiple places. Spent at least $50 on new supplies for just cleaning and disinfection.
Aliana – I did not find it too difficult to get the sanitation supplies, partly because I was already stocked up on a lot like alcohol, Barbicide etc. (Its a problem, I'm a bit of a hoarder when it comes to anything makeup/kit related lol) obviously cannot find clorox wipes though!
Tania – I already had a Barbicide type product (I actually use MarVCide), alcohol, brush cleaner, and Beauty So Clean on hand. EVERYTHING else was the struggle: Masks, gloves, disinfectant spray, and OH MY GOSH wipes! Barbicide discontinued their wipes (!), and then I had an order paid for of Cavicide wipes and the vendor cancelled it on me. So much of what we need is also needed by the medical industry and I don't think it needs to be said which industry is the priority. The struggle has been super real.
So this brings me to a business question: does this affect your contracts in any way? Apparently even the president is having people sign a waiver saying that they will not sue in the event they contract the coronavirus while attending one of his rallies. How do you think makeup/hair artists should protect themselves in this way? For those of you that will be getting deal memos are you planning on having a deal memo rider with certain stipulations? Just talk to me about how you plan to work through this part of the process.
Bethany – So the job that was inquired about was through my agency and I asked them what their process was so far. Apparently other artists have been sending in 'safety certificates' but I don't know what that means and I was hoping you could answer that question for me. I looked it up and I couldn't find any answers on it. I don't know if that's a legal document or a medical one but its will definitely being going on my DM.
Tania – Well if your agent talking about the online safety certificates its neither. Those are just online courses giving what should be refreshers for most working artists on sanitation products and protocol. There are some good courses out there for sure, but for the most part they aren't being offered by any entity with governance authority, at least not the classes that I am aware of. I think clients just want to see that you've taken them at this point.
Delia – I think adding a COVID stipulation will be the norm across the industry. For me, I'm planning on adding this to deal memos, contracts, agreements, etc. Not sure how it will be worded yet.
Liza – In all honesty, I haven't thought about this process since I'm usually covered at my jobs. But I do have a few jobs I need to think about this for. So I'll be reading the blog lol… (TDR – lol well stay tuned, I have info coming! )
Liz Fox – I'm embarrassed that I haven't thought about this much. I have liability insurance that I am hoping covers me enough. Most commercial work does not have a deal memo, so I'm pretty much covered by the production company.
Aliana – For a while now I knew I should have insurance but didn't, this was def a push to make sure I got that. I have not written anything up yet as far as deal memos/contracts pertaining to Covid19 however think we all will need to!
What about your rates? For those of us who are going to need to supply our own sanitation products that stuff is expensive and hard to get because most of it is being (understandably) siphoned into the healthcare industry. Are you going to reflect this extra expense into your rate structure somehow? If so how?
Liza – Not applicable.
Delia – Yes I am and I'm still working out the details. If i'm planning on using disposable items that weren't already added into my rate (capes, mascara,disinfectant, etc.) then my rate needs to go up.
Liz Fox – I upped my rate by 50 but that was not enough! The work is harder and more of a grind, along with being uncomfortable (wearing a mask for 10 hours!!). I wish I had upped it by 100/10. But I hear businesses are asking for rate deals since there hasn't been much work. Luckily I haven't experienced that yet.
Bethany – I keep reading that production costs are going up about 20% so it would only seem fair to incorporate some kind of fee until we end the phases and we no longer are having to practice these precautions.
Aliana – I think all of our kit rates are justifiably going to have to be higher than they were before.
Tania – For my in-studio and production clients this likely won't be an issue; they'll either cover it or those clients always expect a Kit Fee and Expenses where applicable. Print clients/jobs, however, can be the Wild West. Some clients really used to balk at a Kit Fee but then they'd also freak if you raised your rates. LOL Needless to say some education will be in order as artists should expect to be compensated for these involuntary expenses.
Do you have business insurance for yourself/ your business (your own policy in addition to whatever your workplace/production/salon etc. carries)? Is your kit insured?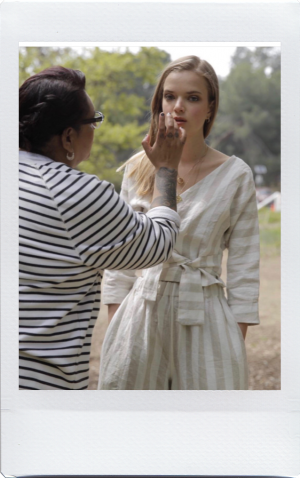 Delia – I don't have insurance for myself but it's something I need to look into. My kit is insured and has been (let's not forget the kit theft of 200?). (TDR – I remember all too well! NOT good times…)
Liza – As of now I do not have insurance, but as soon as we are given the green light to work again I will get some through Pro Beauty Association.
Bethany – The production companies insure me while on the shoot. I don't work anywhere else so I have never had to get insurance. Apparently my car insurance will cover anything that happens to my kit in the event of it being stollen or damaged in my car. And rental insurance covers anything were I reside.
Liz Fox – I have liability insurance that I think covers everything. I'm going to check on that today LOL
Aliana – Now have business insurance, do not have kit as floater policies do not cover everything to my knowledge. I have followed discussions/researched for years and I do think this is a missing field for insurance agencies and someone should make an insurance plan for our industry! (TDR – Hmmmm…🤔)
Tania – I had a regular client/recurring job that required me to carry insurance and it just got me in the habit of carrying my own insurance in addition to whatever my client may or may not have. Obviously working in-house as an employee was completely different but all of my other work is freelance and for around $200 it's an added layer of peace of mind. I do NOT, however, know if my Kit is covered under any of my various policies. I need to look into that.
So what else is there? Did I leave anything out? What other thoughts comments concerns joys excitement do you have about working in the coronavirus world that we now work in?
Liza – There are actually a few joys of quarantine. I didn't know when I was ever going to have a regular sleep schedule. I was working so much I didn't know how long I could keep up the pace without having major health problems. So getting rest is good. I get to reset. But I'm scared all of our clients will have found ways get around makeup artists and we will have less work. I'm really afraid there will be no sports this fall. Sports is my bread and butter. I have always said I can go back into spa if needed, but I don't know if I can do that now. All of my skills require touch so I'm not sure what I will do if makeup artists/estheticians are not in high demand.
Bethany – I think that's all for me. Hopefully this is helpful.
Aliana – Wondering if/when it will go back to normal (as in not needing facemasks). Hope this makes artists who maybe didn't take sanitation as seriously before now realize how important it is!
Tania – I've honestly been living my best life during Quarantine. At some point I'll have to worry about work/money, but for now this has been some of the most productive and fulfilling time I've spent in a long time. I am anxious about working but the adventurerer/explorer in me is also curious to see how it's going to be. Being an educator and a thinker of the industry as a whole, this is obviously a significant sea-change and it will be interesting to see how Artists rise to the challenge. As Liz mentioned earlier, I do think we'll have to be enforcers a lot the time with regards to the safety of our talent and making sure we can do our jobs safely (i.e. – I'm not falling for most of the Guidelines I've seen) And to Aliana's point, a lot of unsafe/unclean/unprofessional artists have gotten away with working for a long time but I can't imagine artists will be able to get away with that on real jobs/sets any longer. Hopefully this new Ethos trickles down to artists doing smaller jobs/private clients/etc. because really, it's important for everyone to work as safely as possible.
Delia – None for now. I'm eager to see what everyone's thoughts are on this.
Liz Fox – Here is my takeaway:
Currently the job has lost all its joy for me. I have always been serious about my work but not taken it too seriously. This is a pandemic that is serious and scary and right now, sets have that vibe to them. And being in close proximity to an actor is scary (for us and them). I certainly feel more like a cleaning lady than an artist. Most importantly, it is clear to me that we makeup artists HAVE to be the experts on everything COVID which is a big responsibility. We have to communicate to producers and talent about everything we are doing. And I have to ask myself every moment if it's worth it. But I am a makeup artist-it's what I do and who I am. I don't think it's going to always be like this (at least I hope) and I'm willing to do the work to keep everyone safe. I've learned a lot about my sanitation of the past not being enough, so I'm happy about that. I hope the entire industry improves on that. I do secretly like the challenge of being the "safest mua out there" so it does feel good to work at that. Competitive much?-yeah, just a little :)"
Want to access information sheets and worksheets on getting working safely in the Coronavirus Era? Join our mailing list for access to the Resource Library, launching next week!

Makeup to Go Blog Newsletter – "Speaking of Makeup"
—-
Have you signed up for the Makeup to Go Blog newsletter yet? Join the fun for exclusive content, giveaways, and other assorted fabulosity! Makeup to Go Blog Newsletter – "Speaking of Makeup"
© 2020 – 2021, MTG Experts. All rights reserved.