PHAMExpo is creating a niche
…and staking its claim amongst the Titans of the makeup tradeshows….Last weekend, June 5 & 6, PHAMExpo 2016 marked my return to the PHAMExpo. I missed last year due to technical difficulties but I hear it was the best yet so I was eager to reconnect. The fine folks at PHAMExpo were so kind as to provide passes to myself and my blogstress En Español, Delia, so away we went for both days.
Overall impressions are the PHAMExpo is distinguishing itself not only by including hair and nails but also by bridging together the increasingly disparate aspects of the beauty biz; the Influencers and the Artists. That's a tall order as the two sides – while we utilize the same medium (makeup) – don't really speak the same language and there were times when that really showed.
For this show I had three objectives; hit the shopping floor and see as many of the new brands as I could, visit with my regular vendors who were in attendance, and see 3 of the Keynote Speakers who stood out to me. I was successful with all tasks! If you don't care about all my wordiness 😉 , please skip ahead as my "Haul" pictures come at the end of the article. But first, the speakers. I must apologize to the folks I saw on Day One, I forgot to bring my real camera so I had to iPhone it :\ …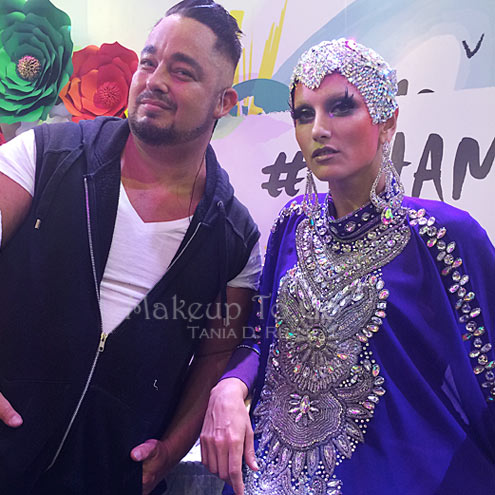 I've known Roshar for quite some time (he even shouted me out during his demo!), and it's been fantastic to see how his career has blossomed. Hard work pays off!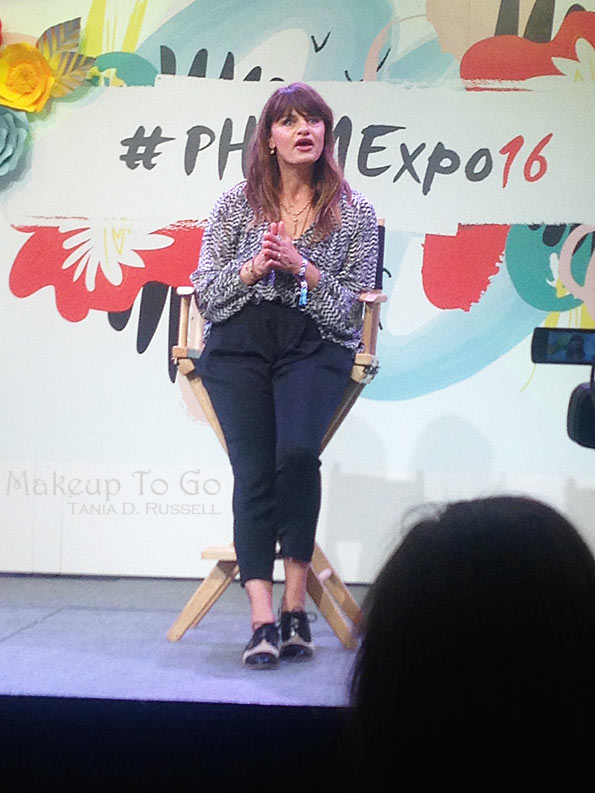 Pati "Prema" Dubroff is one of my personal favorite artists and has been for quite some time so I always enjoy her whenever I hear her speak. Another big benefit of PHAMExpo – at least for right now – is that since it is a smaller show the Keynotes are more intimate, there is more time for Q and A, and people actually have time to speak to the presenters after they've finished. One of the things Pati spoke of that really touched me personally was how this industry is filled with highs and lows and part of being a working artist is just getting through it and pushing forward. Boy is it ever, and I really needed to hear that. Thanks Ms. Dubroff!
The last speaker I really wanted to make sure I caught was Melanie Inglessis. A fixture in the celebrity makeup scene, she tends to A-listers attending everything from the Academy Awards to the Met Ball. Like Pati Dubroff, she was just very real and honest. One of the things she was most honest about is working with celebrities and how you do not always get to work the way you want to or do what you want to do. In yielding to make a celeb comfortable, you may have to compromise your work (i.e. – they're constantly looking down at their cellphone and you just have to work around it or risk not being booked again). The other thing she mentioned is something I repeat like a mantra when I'm teaching; In order to really grow a career you need to NUTURE a specific path – Melanie Inglessis @ PHAMExpo . You can switch streams if you want, but you cannot grow a career doing a "little bit of this" and a "little bit of that".
NOW – An example of how the Influencers and the Artists worlds do not always align;
Pati spoke on Saturday and Melanie spoke on Sunday and yet during both Keynotes, one of the vendors on the floor (a very popular brand) was throwing items out into the crowd waiting in line and there were VERY loud bursts of screaming. So loud that even though the main stage was on the opposite side of the convention hall, you could not hear the Keynote speakers during these outbursts and in fact both ladies were distracted by it. The crowd that wants to stand in line while someone throws out product is not the same crowd that wants to hear two premiere artists speak about their careers. Something to think about going forward.
OK – soapbox over, on to the Haul 😉 One of the things I really enjoy about PHAMExpo is that since they are a slightly smaller show (for now), they still have room for smaller, indie brands that the Big Guys don't.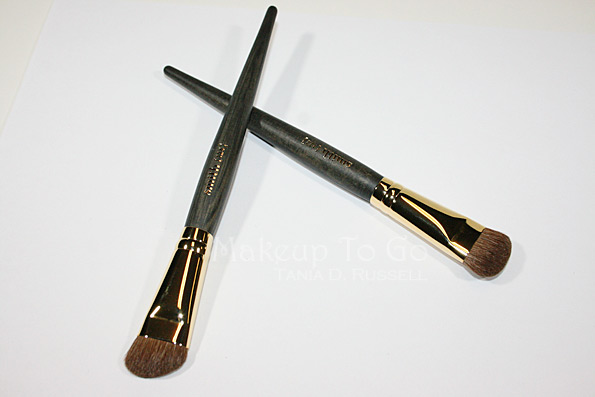 One of my main goals was to visit the Smith Cosmetics booth after hearing so much about their brushes and the Smithfolio. I have no use for a Smithfolio, but y'all know I'm a brush fanatic. I LOVE the way these feel in hand. The handles are uniquely shaped to sit perfectly in hand and they are just weighted enough to have gusto without being heavy. I cannot WAIT to use these and I will give a report when I do…
(click on image for color names)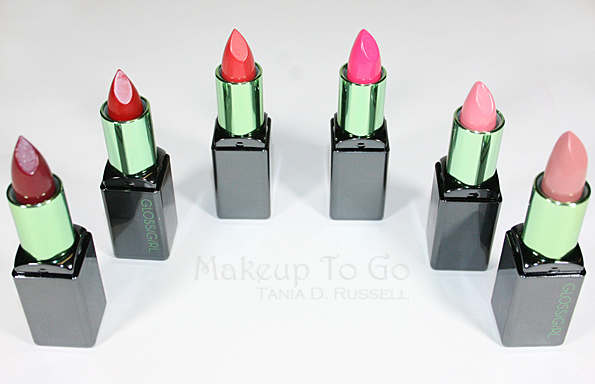 My other goal was to FINALLY get the Glossigirl Cosmetics lipsticks! They were at a great show price so I did not miss my chance (for whatever reason I didn't strike when they were at IMATS). These lipsticks are creamy, rich, highly pigmented sticks of vegan yumminess. And the colors are amaze and the mixing possibilities are endless. Again, I cannot WAIT to try these on a job soonT!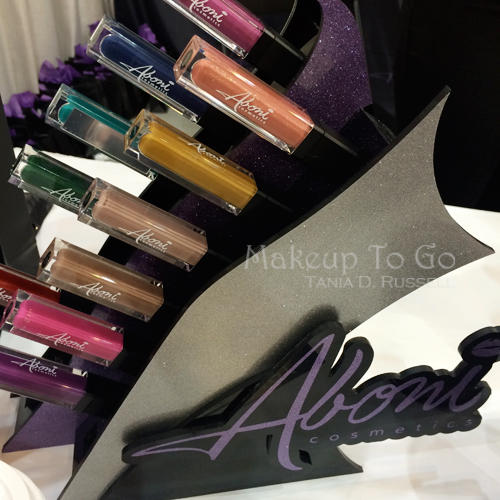 Let me say right now that I am a lipcolor fiend, and I realized after the show that almost everything I looked at and bought was a lipcolor of some kind. LOL! Anyway, Aboni Cosmetics was a new line at the show. When I went back to purchase the color I had my eye on, they were sold out 🙁 But let me tell you; these colors do NOT come off.
(click on image for color/brand names)


They do Not. Come. Off. This was my hand after several washings (as I'm sure you can tell). Eventually two of the colors wore down (not all the way off) but two of them (the dark maroon and the bright teal) I had to use coconut oil to take off before I went to bed. So if you need lipcolor that goes on and on and onon and on and it don't stop 'till the break of dawn…
(click on image for color names)


The other brand that did not come off in the hand swatch above was DEP Makeup. I was drawn in by their overall presentation. The booth was well laid out, the packaging is pretty, they had a DJ, a guy was doing the My Boo Running Man, it was just a great booth. And then the colors of the liquid lippie were fab AND as you can see, they last. Nice find.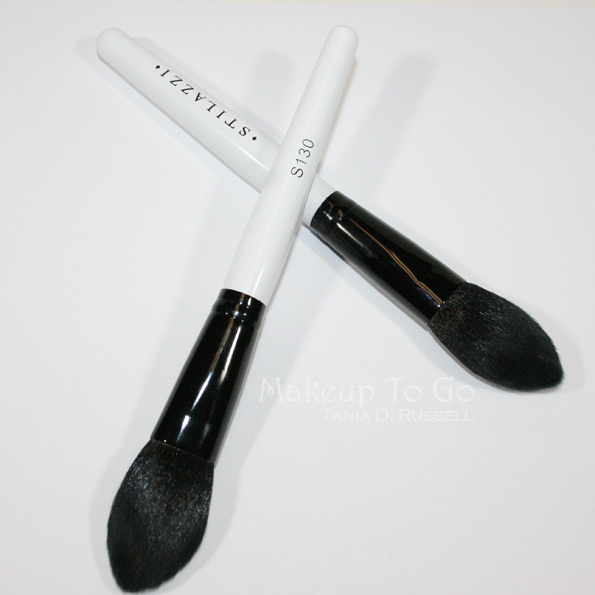 Brushes and lips, lips and brushes. lol. I was more intrigued by the brush shape of these Stilazzi brushes than the fiber (feels like some type of synthetic or possibly a synthetic mix). I do like the weight and shape of the handles, although white handles in a Pro kit – dunno about the upkeep on these. We shall see. Anyway, Stilazzi brand is exclusive to Frends Beauty and I like supporting my homies at Frends so that's groovy… Speaking of homies there were a lot of my fab people in attendance working the various booths, or just in attendance supporting the show. Always fab to run into folks…
Bonblissity was another booth that drew me in with it's fabulousness. I usually completely ignore non-makeup booths but the setup was so nice AND the product REALLY works. I didn't even need lotion after he finished with the scrub on my hands. (and yes they had a fully functional sink in their booth!)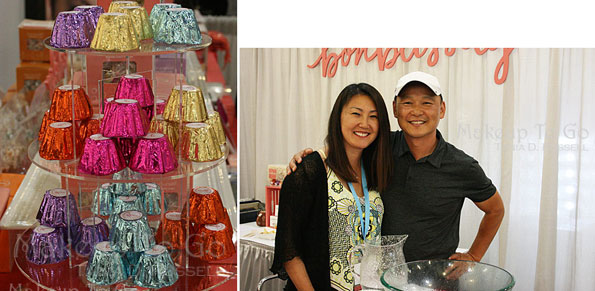 Towards the end of Day 2 when I could no longer think I ran into the Stefania Organics booth which drew me in with it's intoxicating aroma. There were two new brush cleaner brands on site at the show and if my brain had been turned on, this is the one I would have purchased (I noticed that most of my makeup artist friends chose the other one which was very nice as well). Even if I didn't like it as a brush cleaner it also works as a hand sanitizer and all 4 of the scents were A M A Z I N G. All natural, essential oil based, none of that synthetic scent garbage. Why I didn't just buy this at the time is BEYOND ME because I've been regretting it ever since. That Lemongrass based Queen of Hearts scent was a Tania magnet. In fact let me go place an order after I post this article… Delia got a sample in her gift bag so she'll write about it I'm sure in her PHAMExpo post which will go live on Monday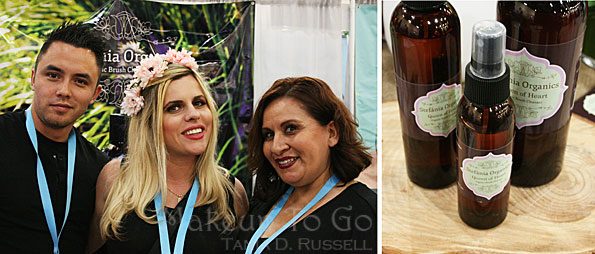 I told you I bought lips and brushes and brushes and lips. LA Girl – of the famed "Pro" HD Concealer – was on hand. While I do like the concealer as a highlighter on women of color (I don't actually think its great as a concealer), I was more interested in their lip colors. The Glazed Lip Paints come in great nudes and bright poppy colors and at the show they were too inexpensive not to try. They are similar in texture and finish to OCC Lip Tars, but I need to read if these are vegan like OCC.
(click on image for color names)


All in all I definitely had a great weekend! While there were little tweaks I would make to the show to suit my perfect world ;), I definitely think PHAMExpo is a show well worth attending for pros and consumers alike. I look forward to doing so again next year.
(NOPE – this isn't a sponsored post. The fine folks at PHAMExpo provided passes but otherwise they did not know if I'd go, if I'd shop and/or if so what I'd purchase, nor did they do not know whether or not I'd do a post on the show. As a pro artist, I try to cover all of the makeup trade shows.)
—-
Have you signed up for the Makeup to Go Blog newsletter yet? Join the fun for exclusive content, giveaways, and other assorted fabulosity! Makeup to Go Blog Newsletter – "Speaking of Makeup"
© 2016, Tania. All rights reserved.