Did she say "Milani Cosmetics"? Yep, sure did.
Regular readers of MTG will note that I do not largely discuss mass-market/"drugstore" cosmetics brands because I do not generally use these brands. I am not default 100% against these brands (I use and have talked about some Maybelline and NYX products, for example), but I hold ALL cosmetics – regardless of price point – to a certain standard of performance. Therefore if a product line does not work or if they "work OK for the price", I will likely not be discussing it here. The Makeup to Go mantra has always been and always will be "how well does this product work when used in a Real World application?".
This past weekend I had the pleasure of working on an event called "Turn the Beat Around" which was a benefit event for the Jenesse Center (read below for more info), and the cosmetics sponsor for the event was Milani Cosmetics. I have known of the Milani line for a long time, since both the product and the branding were quite different. They were always pretty good, in fact I had one cream eyeshadow from the original line that I clung to for dear life for a number of years. While I was not looking, however, Milani has gone from being pretty good to Pretty Darn Great. For the show we were given an array of products. The Milani line is quite comprehensive now including everything from Brow Kits to Bronzers, so I won't go into detail on every single item. I will instead focus on those items I ended up using for my final look.


Smooth Finish Cream to Powder Makeup
If you know me at all, you know that I am going to judge a cosmetics line by it's foundation/skin products because IMO that is the most important part of a makeup. I was pleasantly surprised with these foundations. They do NOT give as much coverage as a Pro foundation, so if you are used to the coverage of a MAC, Make Up For Ever, Inglot, etc. foundation, this is not the one. In my opinion this product gave good "everyday" coverage. As far as application, I applied it with a brush and it went on evenly and smoothly, it was very blendable and I was able to create contour and highlighting with it, and it lasted nicely and did not crease up, cake up or go crazy as the night went on. Comes in a range of colors suitable for all skin-tones.



Secret Cover Concealer Stick
Of everything I tried, this was the most "eh" product of the group. It was certainly not bad, it just wasn't great. I am definitely more used to the coverage of a professional level concealer. I thought this was a bit too sheer/lacking in pigment to act the way a concealer should. It is build-able, however, and it did last well. Comes in a range of colors suitable for all skin-tones.


Brow Fix brow kit
While it was not great enough to make me switch away from Sonia, I was quite pleased with these Brow kits. I think the most impressive aspect is that they include two colors so you can blend to get the right color for you AND the colors are not too red overall. They even include a teeny-tiny set of tweezers.


Pressed Powder
This is a good, basic pressed powder. Nicely milled so it goes on silky and not cakey. I do wish, however, that they had a neutral/colorless option as colored powders can be a bit tricky. I primarily used the #9 – Golden powder which brought some luminosity to my makeup similar to how Ben Nye's "Topaz" powder works.


Liquid Eye Liquid Like Eyeliner
Formerly called "Liquif'Eye" eyeliners, these are likely the product that began the Milani revolution. Why didn't anyone tell me before?!? These eyeliners can take the Pepsi Challenge™ with Urban Decay's 24-7 Eyeliners any day of the week. And this is coming from someone who LOVES the Urban Decay liners, I've said many times that the liners are my favorite product from Urban Decay. Well, these liners are every bit as good at 1/3 the price. In doing some online reading, the vote seems to be split as to whether they last as long as Urban Decay's 24-7 Liners. I used the #1 – Black pencil in the Waterline and I've got to say it was smooth, creamy, super Black and lasted all night. Am I going to abandon my Urban Decay? Nope. Are the Liquid Eye Liquid Like Eyeliner a great option to have? Absolutely.


Shadow Eyez 12-Hour Wear Eyeshadow Pencil
Absolutely fantastic. FANTASTIC. The beautiful jewel tone colors were rich and true, blended beautifully and once set the smudge-proof, water resistant formula lasted all night. Great for personal or professional use.



Eye Tech Bold / Eye Tech Extreme / Ultra Fine liquid eyeliners
The Eye Tech liners are – again – Fantastic. Super rich, dark, true Black color in a smooth liquid formula that stays put once set. The felt tip allows for precision application for those clean liquid lines we all love. While no problem for personal use, the felt tip is a sanitation issue for Kit use so be sure to alcohol the tip and allow to dry before re-inserting into the tube.
The Ultrafine liner is a sparkly liquid liner. I found it not quite opaque enough to stand alone, but it was fab layered over my eyeshadow to add more sparkle, depth and dimension.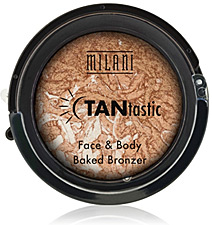 Tantastic
Huh, I wonder what product this might be based off of? 😉
Well like its more expensive cousin, this is a very good all-over bronzer/highlight. It is quite shimmery but this shimmer is nice and fine so it give a pretty, subtle luminosity as opposed to being "sparkly". I used it on both face and body and it applied evenly and smoothly and lasted throughout the night.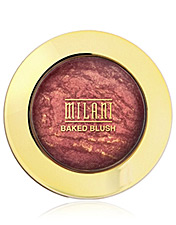 Baked Blush
The texture of this blush really is silky smooth and it applied flawlessly. This is really important because what generally does not work about less expensive blushes is that they are too powdery, they do not blend well and they do not last. Milani really got the formula right on these baked powder Blushes AND the blushes come in colors suitable and pigmented enough for deeper skin tones. The only drawback is that all of the shades are shimmery. It would be great if they introduced some non-shimmer colors into the mix.


Glitzy Glamour Gloss
Milani has a number of lip color products amongst its offerings. The Glitzy Glamour Gloss has good texture and weight (not too liquid-y, but not too sticky) and lasted impressively well for a lipgloss. I did not have to touch my model up until after she ate.
The result;
This is my model before wardrobe (hence before lips) and before a few other finishing touches. She stayed in tact all night, needing only minimal touch-ups even after a wardrobe change and a meal break. For anyone aspiring artists who are looking to build their kit, or anyone who wants good quality cosmetics at a great price, Milani definitely fits the bill.
Again, the event I was a part of was a benefit for the Jenesse Center, Inc. Domestic Violence Intervention program. Their mission is to;
"…provide victims of domestic violence with a comprehensive, centralized base of support to assist them in addressing their immediate crisis and changing the patterns of their lives. We seek to prevent and end the cycles of domestic violence through education, research, resources and advocacy provided to individuals, families, the community and agencies throughout the nation…"
To find out more about supporting this vital cause, please visit The Jenesee Center website. Thanks so much to Milani Cosmetics for supporting this important cause! 🙂 .
© 2013 – 2016, Tania. All rights reserved.