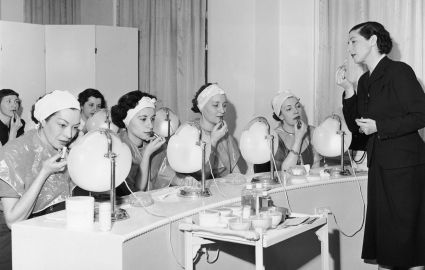 Makeup education has become one of the primary focuses of the Makeup to Go! blog. First of all, I love teaching. While I no longer teach at the makeup school I once did, I plan to always instruct in some way because I love watching young talent develop. Secondly, there are so many young, talented aspiring artists out there yet there is So. Much. Bad. Information.
It's scary.
It's. Scary.
Whenever I see the opportunity to dispel some myths and inject some reality I have to jump at the chance. A long time ago makeup artist and Camera Ready Cosmetics founder had the idea of launching a site where young artists could sign up to take lessons from and by mentored by Sr. Artists. The idea being that by learning directly from a working artist, you could learn much more in one day than you could in some 10-16 week school programs. I was one of the Mentors and I'll tell ya I have some former students that are almost doing better than me! 😀 Moreover, a working artist is likely to have specialties and be able to cover specifics that a school curriculum cannot cover. Therefore I am excited by the individual Workshops I see being formed by some of my fellow artists. Instead of being threatened by them, I am excited by what they have to offer the makeup landscape. While continue to develop how I want my own Workshops to flow, I suggest checking some of these opportunities out. PLEASE NOTE: All of these classes are in Southern California.
Cara Maccianti – Makeup/Hair Freelance Artist Workshop & High Def Makeup Workshop, 6/10 & 7/1/2013
Cara is one of the students from my first, first makeup workshop and she's one of the folks who is now kicking my behind. LOL! In fairness, she was not a beginner when she took my class at all, but to see how her career has blossomed has been a thing of joy indeed! 🙂 She works for a lot of TV clientele and is very knowledgeable in makeup for High Definition, as well as the basics of makeup for photography. If this is a realm you would like to enter, this is definitely a class worth considering.
Kim Young – LA Makeup Workshop, Color Theory and How it Relates to Makeup, 6/30/13
Kim Young is a talented makeup artist based here in LA. Amongst her many accomplishments, she recently won the Temptu Pro Artistry Team Talent Search. She and her partner, Stephanie Navarro, will be teaching focusing on Color Theory which is EXTREMELY important and missed by a lot of schools and DIYers alike. The reason you're always buying excess product searching for that "perfect pink" or trying you are having problems "matching colors" for different skin-tones is because you do not know how to mix colors yourself because you do not know your color theory. Now is your chance to rectify that.
Sean Harris – Drag Makeup – 6/22/13
I saved this for last because it's a fun one (but it's also coming up the soonest so act fast). I met Sean when we worked together on a project for Stila. He is a for real makeup artist, he currently works under none other than Scott Barnes. When I was teaching one of the number one things I was asked about was makeup for Drag. It is a specialty and an art and it takes a lot of artistry and a lot of skill to become good at it. Needless to say this does not fit into the curriculums of most schools so if this is a facet of the beauty biz that interests you, I would not pass up this opportunity. This is a demo, not a hands on class, but you will see everything from start to finish step-by-step.
While I am on the topic of education, I would be remiss if I did not mention the upcoming PHAMEXPO happening in Pasadena, CA 6/29 & 6/30/13. PHAME is the latest entrant in the Trade Show Circuit and by the looks of it, it is chock-a-block with all the top educators (except for me) and exhibitors and brands currently on the scene. They describe themselves as "Professional Hair and Makeup Expo (PHAMExpo) is the ultimate event for savvy beauty professionals, students, and anyone interested in the latest trends for hair and makeup. " Next week as the show approaches, I will do a little feature on them and just what differentiates them from the other trade shows.If you're interested in going, however, get your tickets now before the discount deadline ends.
© 2013 – 2014, Tania. All rights reserved.